The Man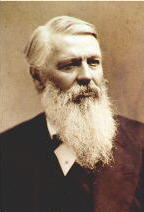 Hillside gains its historic significance from its first occupant, John Bartholomew Gough (1817-1886). One scholar recently compared him to Evangelist Billy Graham; in the late 19th century Gough's name was recognized by almost everyone. His oratorical skills in the cause of temperance made him the most sought-after speaker of his time. His autobiography sold over 100,000 copies. Gough claimed that during his career he gave 6,000 lectures and convinced 215,000 people to "sign the pledge." His fame spread throughout Canada and Europe, and "Hillside," became a place where all types of reformers gathered. When Gough died in 1886 the New York Times wrote that he was one of the most famous men of the 19th century.
John Gough's estate, Hillside, captures the spirit of reform in America.
Through the study of Gough's life we come to understand why temperance was known as the great reform of that age. It was from the Temperance Movement that the cause for women's rights received much of its early energy and influence. Exploring Gough's career can help people understand the impact of Reform in America. The movement played a key role in the social fabric of the mid-1800s; it continues to play an important role in improving the lives of everyday citizens.
Reform is an integral aspect of our democracy, and Hillside helps us to interpret and understand it.
Pictures of Hillside Farm taken December 2020 by Sarah May Mendoza, student at Tahanto Regional High School in Boylston